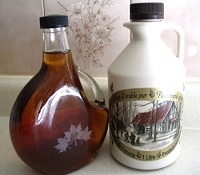 Looking for local maple syrup orchards and sugarworks in Georgia? The website also has listings for every other state, tours, festivals, syrup making demonstrations, history, facts, related events and fun!" Just select your area in the list or map below.
And if you know of one I missed and want to add it or correct the information, please let me know!
Updates for December 2023
December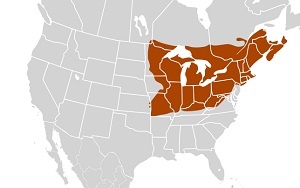 - The new sapping season starts in late winter; typically from mid-March to mid-April in most maple-syrup producing areas, when temperatures are below freezing at night and above freezing during the day. Tours usually begin in early Spring! That's a great time to visit a maple sugar orchard or sugarworks and see a sugaring demonstration; watch them make maple syrup!
Where are Maple Syrup farms/orchards/sugarworks, etc.? Well, they're not in Hawaii or Florida, for sure. They are concentrated in the northeast and upper midwest in the US and the eastern half of Canada, even though maple trees do grow in the northwest. That's why the areas below (in states outside of the Northeast and Midwest) have no listings! Although, there is research to develop trees that can produce sap/syrup in warmed climates.
Maple Syrup listings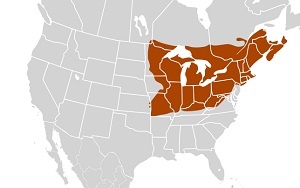 There are NO maple syrup farms, orchards, plantations or sugarworks in Georgia. Sugar maple (Acer saccharum) is also known as the hard maple, rock maple, sweet maple and black maple. Sugar Maple trees are native to the Great Lakes area of North America and north into southern Canada. Sugar maples grow well in the northwest of the U.S. as well as western provinces of Canada, but at present, there are no commercial maple syrup operations in those areas, save one in Washington State.
The sugar maple tree will still grow further south, but would not produce enough sap to map maple syrup production commercially feasible. But the Sugar Maple does make an excellent ornamental tree, since the sugars in the sap help to produces ;leaves that make beautiful Fall colors each Autumn. And the wood from sugar maple is very hard which makes it an excellent choice for hardwood flooring, paneling, furniture, kitchen butcher blocks and even some musical musical instruments.
So, while you won't find a maple syrup farm in ; you can enjoy the beauty of maple trees each Autumn.
And if you are looking for local maple syrup, you might want local honey! Unlike maple syrup, it has health benefits, such as helping with allergies. There are many Apiaries, local honey beekeepers producing local honey in Georgia. See LocalHoneySources.org for one near you!
Recommended recipes for maple syrup and maple sugar
Maple syrup pairs especially well with: