Maple Syrup Cinnamon Buns - aka, Maple Sticky Buns
Cinnamon Buns - aka, Maple Sticky Buns
These were a childhood holiday treat for many; while younger folks may have had them first from the many Cinnamon Bun shops, like Cinnabun" in shopping malls. Either way, homemade is better. You can add as many raisons, walnuts pecans as you like, or half the loaf with, half without, or none at all!
Equipment
9" x 9" pan
Mixing bowl
Spatulas
hand or standing mixing
electric mixer (stand mixer, like a KitchenAid works best, by a hand mixer will do)
Ingredients
For the Dough
3/4 cup warm milk (105-115 degrees F, warm but not hot, to help the yeast!)
2 teaspoons active dry yeast (that's 1 packet). quick rise or instant yeast will help the dough rise faster. You can also use active dry yeast, it just rises slower. Active dry yeast also must be dissolved in the milk first to activate it.
1 teaspoon + 1/3 cup packed brown sugar
3 cups bread flour or all-purpose flour. Bread flour has a higher protein level with helps the texture some.
1 teaspoon salt
1 teaspoon cinnamon
1 teaspoon maple extract for an extra maple kick!)
3 Tablespoons unsalted butter, room temperature, soft but not liquid
1 egg
Filling
2 Tablespoons unsalted butter, room temperature, soft but not liquid
1 cup brown sugar
1/4 cup maple syrup
2 Tablespoons corn starch (or other starch, like arrowroot, potato, etc.)
1 Tablespoon cinnamon
1/4 teaspoon salt
Optional:
1 cup raisins
and / or
1 cup chopped nuts (walnuts, pecans, etc.)
Directions
Make the dough
Step 1 - Activate the yeast
Dissolve the yeast in the warm milk, yeast and 1 teaspoon brown sugar. Set it aside in a warm place (room temperature is fine, unless your room is below 60 F (15 C) ), to activate the yeast for 10 minutes.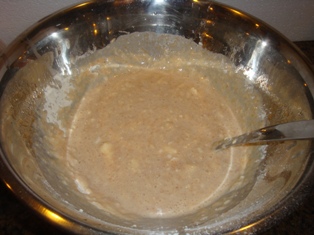 Step 2 - Make the dough
In the mixing bowl, combine sugar, salt and cinnamon. You can mix by hand or use a mixer with a dough hook. Add the egg, butter and maple extract to the yeast mixture. Mix.
Step 3 - Gradually add the flour
Slowly add the flour, about 1 cup at a time, pausing to mix well, until it forms a stiff dough. It will start out wet, then get sticky. You want to add just enough flour to get barely get to the "sticky" stage.
Step 4 - Knead the dough
On a lightly floured board, or countertop, knead the dough for about 10 minutes. Of course, if you have a KitchenAid (Sunbeam, or equivalent) with a dough hook, you can use that to knead the dough. But it's really not hard work by hand. You may add more flour so you get a ball of dough that no longer sticks to the bowl.
Step 5 - Let the dough rise
Place dough in a lightly oiled bowl and cover with plastic wrap (first spray the plastic wrap with cooking spray). Leave dough to rise in a warm (70 F to 95 F) until doubled in size, about 30 to 90 minutes. This may more or less time depending the humidity and temperature in your home.
Step 6 - Get the over pre-heating
Preheat the oven to 350ºF.
Next, the Filling
Step 7 - make the filling while the dough rises
While the dough is rising, make the filling.
In a small bowl combine the sugar, cinnamon, salt and melted butter.
Step 8 - Roll out the dough, fill and cut it into rolls
After an hour, lightly punch down dough. I find just removing the dough and rolling it out reduces it enough most times.
Roll out the dough on a lightly floured surface into an 18 x 12-in. rectangle.
Spread filling mixture evenly over dough.
With the long edge facing you, tightly roll up dough in jelly roll fashion, starting from the 9-inch side and place seam side down making sure to pinch and seal the edges of the dough as best you can
Cut the roll crosswise into 12 equal sized pieces.
Step 9 - let the rolls rise again
Place rolls cut side down in a lightly oiled 12-in cast iron pan or a 9" by 9" pan.
Cover lightly (NOT sealed!) with an oiled piece of plastic wrap and let rise until doubled in size in a warm (70 F to 95 F) about 30 to 40 minutes.
Step 10 - Bake the buns
Remove the plastic wrap and bake until golden brown and baked through, about 20 to 25 minutes or until just slightly golden brown on the edges. It is better to underbake them so they stay soft and moist in the middle. Insert a clean knife; if the knife comes out clean, they're done.
Icing
There are three types, choose the one you like best!
Icing 1 - sugar - maple syrup
1 cup powdered sugar (aka, confectioner's sugar), Diabetics might want to skip the icing or make a sugar-free version with milk and vanilla extract.
1 to 2 tablespoons of maple syrup
1/4 teaspoon of vanilla extract
Simply mix the ingredients. If it is too watery, add more sugar.
Icing 2 - cream cheese
4 oz cream cheese, softened
3 tablespoons unsalted butter, softened
3/4 cup powdered sugar
1/8 cup maple syrup
1/4 teaspoon vanilla extract
Using an electric mixer, combine the ingredients above and mixt until smooth. Spread over the cinnamon rolls
Icing 2 - half and half / maple syrup
1/4 cup butter
1/4 cup half and half
1/4 cup maple syrup
1 cup brown sugar
1 Tablespoon corn starch (or other starch, like arrowroot, potato, etc.)
In a small pot over low heat combine all icing ingredients.
Bring to a boil then reduce heat to low and simmer for 3 to 5 minutes, until glaze is sticky and thickened.
Pour over warm rolls, gently spread evenly