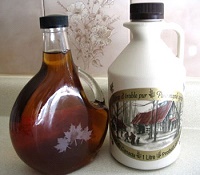 Looking for local maple syrup orchards and sugarworks in Southern Vermont? There are also listings for every other state, tours, festivals, syrup making demonstrations, history, facts, related events and fun!" Scroll down this page and you will see the aall of thoses in Southern Vermont, sorted by county. ALWAYS call before you go to confirm the info, they don't always report changes to me!
And if you know of one I missed and want to add it or correct the information, please let me know!
Updates for November 2023
November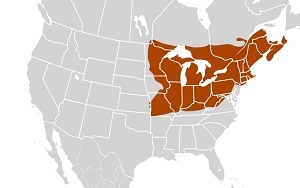 - The new sapping season starts in late winter; typically from mid-March to mid-April in most maple-syrup producing areas, when temperatures are below freezing at night and above freezing during the day. Tours usually begin in early Spring! That's a great time to visit a maple sugar orchard or sugarworks and see a sugaring demonstration; watch them make maple syrup!
Where are Maple Syrup farms/orchards/sugarworks, etc.? Well, they're not in Hawaii or Florida, for sure. They are concentrated in the northeast and upper midwest in the US and the eastern half of Canada, even though maple trees do grow in the northwest. That's why the areas below (in states outside of the Northeast and Midwest) have no listings! Although, there is research to develop trees that can produce sap/syrup in warmed climates.
Maple Syrup listings, by county
Click on Resources above, if you need a county map
Bennington County
Dutton Berry Farm & Farm Stand - maple syrup sugar house
Routes 11 - 30 Manchester, VT. Phone: (802) 362-3083. Email: duttonbf@sover.net. Open: 7 days a week, 9am-7pm. Directions: Rte 11/30, Manchester Center. year round. Each year we put out over 3,000 taps. For the 2013 season we had our best crop yet after doing it for twenty years with a total crop size of more that 1,250 gallons, this syrup is available for you to purchase at any of our three locations. We are proud members of the Vermont Sugar Makers Association.
Mance Family Tree Farm - maple syrup made on the farm,
217 Holiday Dr, Shaftsbury, VT 05262 Phone: 802-6883506.
Merck Forest and Farmland Center - Maple Syrup from trees on the farm, Fresh eggs, gift shop, restrooms, picnic area, farm animals, birthday parties, weddings and wedding parties, school tours, events at your location (call for info)
3270 Route 315, Rupert, VT 05768. Phone: 802-394-7836. Email: info@merckforest.org. Open: Grounds are open daily from dawn to dusk; Visitor Center is open daily from 9am to 4pm excepting major holidays. Directions: From Manchester, Vermont, travel north on Route 30 for 8 miles. Turn left on Route 315 for 2 miles. At the top of the hill, turn left into the Merck Forest access road. From New York travel on Washington County Route 22 to Salem, New York. Turn east on route 153. In Rupert, continue straight on route 315 for 2 miles. At the top of the hill, turn right into the Merck Forest access road. Click here for a map and directions. Payment: Cash, Check, Debit cards, Visa/MasterCard, WIC Vouchers. Click here for our Facebook page. In March, our annual maple festival breakfast is famous throughout the area. People across the U.S. seek Merck's Vermont-Certified Organic Maple Syrup! We make consistently flavorful and delicious syrup in all 4 Vermont Grades - each with unique characteristics and flavors. Syrup is available for purchase at the Visitor Center (9 a.m. - 4 p.m., daily), or it may be purchased on the MFFC Online Store. We offer camping in our popular "walk-in" cabins, hiking on 30 miles of trails, skiing, snowshoeing and special programs.
Rutland County
Windham County
Adams Family Farm - Fancy maple syrup, Medium maple syrup, Dark amber maple syrup,
15 Higley Hill, Wilmington, VT 05363. Phone: 802-464-3762. Email: farmfun@sover.net. Open: This varies depending on the weather, please call us; Usually our season lasts from Mid - March to Mid - April. Click here for current open hours, days and dates. Directions: From Connecticut, New York, via I-95 Take I-95 north to the I-91 north exchange. Take I-91 north to exit 2 in Vermont (Brattleboro, Route 9 west). Follow Route 9 for 17 miles to Wilmington, VT. Take a right onto Route 100 north, follow 3 miles till you see Higley Hill Road on your right, take Higley Hill Road and you will see Adams Farm on your right. Click here for a map and directions. Payment: Cash, Visa/MasterCard, Discover. . Adams Farm still makes syrup the old fashioned way, over a wood fire. This 6 generation farm sells all it can produce right at their farm store. Maple syrups, Maple BBQ Sauce, Maple Cotton Candy, and Maple Apple Drizzle.
Dwight Miller Orchards - Honey from hives on the farm, Maple Syrup from trees on the farm, Cider mill (fresh apple cider made on the premises), prepicked produce, gift shop
511 Miller Rd, E. Dummerston, VT 05346. Phone: 802-254-9635. Directions: Take Exit 3 on 91, continue north on Rte. 5. Turn left on Schoolhouse Rd and continue about 2 miles to Miller Rd, a steep hill on the right. Follow signs. And for a map to our farm, click here. Crops are usually available in June, July, August, September, October. Open: Seasonally, open during business hours. September thru Christmas, open everyday from 9am to 5pm. Strawberries: June to mid-July, Blueberries: mid-July thru August, Peaches: mid-July thru August, Apples: September thru Columbus Day. We are certified organic for all crops! Payment: Cash, Check. We grow rhubarb, strawberries, blueberries, sour cherries, plums, cherry plums, peaches, pears, apricots, grapes, fall raspberries, apples, spinach, mesclun, tomatoes, green beans, squash, pumpkins, and harvest our own honey. We offer a variety of jams and fruit butters made from our own organic fruits, as well as our own violet and natural mint jellies. We produce pure maple syrup, maple candy, sweet apple cider and apple cider vinegar which we sell in bulk. We sell Vermont-made wines at our gift shop made from our rhubarb and apples.
Windsor County
Mom & Pop's World's Best Vermont Maple Syrup -

No pesticides are used

, Fancy maple syrup, Medium maple syrup, Dark amber maple syrup, Premium maple syrup, Collectors bottles or sets, maple candies, maple sugar,
3425 Brandon Mountain Road, Rochester, VT 05769. Phone: 802-767-3731. Open: year round. Directions: Located directly on Route 73 in Rochester. Click here for a map and directions. We do not use pesticides on the crops. Payment: Cash, Check, Debit cards, Visa/MasterCard. . Visitors are always welcome to the farm. Call us about tours or stop by. On nice days in the summertime, look for Pops' maple stand at Moss Glen Falls on Route 100 in Granville!. Syrup grades: Fancy, Medium, Dark Amber, and Grade B. In addition to syrup, we also have maple candy, maple cream, maple sugar, hard maple drops, gift baskets, and a wide assortment of collectible glass bottles. WE SHIP ANYWHERE.
Richardson Farm Maple - maple syrup made on the farm,
Phone: 1-802-417-1220. Po box 35, Taftsville, VT 05073. %
Sugarbush Farm - Grade A (formerly known as the Fancy syrup)
591 Sugarbush Farm Road, Woodstock, VT 05091. Phone: 802-457-1757. Email: contact@sugarbushfarm.com. Open: Free Admission Weekdays, weekends and Holidays: 9AM-5PM (closed Thanksgiving Day & Christmas Day) During the winter and early spring, (late November-early April) it's best to call ahead for hours and road conditions. Directions: GPS: 43.6646.0, -72.4672.09. The Sugarbush Farm family is famous for its excellent waxed cheeses and Pure Vermont Maple Syrup made here on our hillside farm. You are invited to visit our 4 season farm attraction located in Central Vermont. Savor the free samples of 15 varieties of cheese, Pure Vermont Maple Syrup and Vermont made foods. You can learn about maple syrup making with the sugar house tour, walk the nature trail to see the sugar maple trees, make friends with the farm animals in the summer, enjoy the lovely views and visit with real farmers. March and early April finds the entire Luce family busy making maple syrup. Maple sugaring is really family time because we are spending many hours together in the sugarhouse while Jeff, Ralph and Matt bring in the sap from the sugar woods and boil it down to make our Pure Vermont Maple Syrup
As the weather warms for sap flows, the snow slowly melts and Vermont's gravel roads turn to mud. If you visit during mud season, be sure to wear your boots and hope your car is high enough to get through the ruts and mud. Please call if you have questions about road conditions. Precise weather is required for making syrup. We need a cold night about 20 degrees F and then a warm sunny day in the 40's and low 50's for good sap flow. So we can never predict more than a few days ahead of time which days we will actually be boiling maple sap. Also check our Facebook page for maple sugaring and boiling updates. We tap about 8,500 trees and hope to make about a quart from each tree. We start making the Grade A golden color, delicate taste (formerly known as the Fancy syrup) syrup at the beginning of the season, then progress to Grade A amber color, rich taste, Grade A dark robust taste and end with Grade A very dark strong taste (formerly known as Grade B), just before the buds open and the season ends. If you would like to visit, please call us at 800-281-1757 or send us an email at contact@sugarbushfarm.com and we will try to give you an idea of our sap boiling schedule. Our sugarhouse is open every day even if we aren't boiling sap, so you can tour and get a good idea of how it works. Walk on our maple trail and see the buckets and sap lines. Watch how our sap comes out of the tree and how it's collected. On March 24th-26th our farm, along with others in the state, will celebrate Official Maple Open House Weekend.