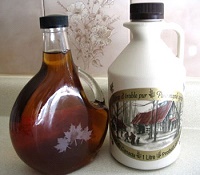 Looking for local maple syrup orchards and sugarworks in Shenandoah Valley (Rockbridge, Rockingham, Augusta, Highland and Bath counties)? There are also listings for every other state, tours, festivals, syrup making demonstrations, history, facts, related events and fun!" Scroll down this page and you will see the aall of thoses in Shenandoah Valley (Rockbridge, Rockingham, Augusta, Highland and Bath counties), sorted by county. ALWAYS call before you go to confirm the info, they don't always report changes to me!
And if you know of one I missed and want to add it or correct the information, please let me know!
Updates for February 2023
February The new sapping season starts in late winter; typically from mid-March to mid-April in most maple-syrup producing areas, when temperatures are below freezing at night and above freezing during the day. Tours usually begin in early Spring! That's a great time to visit a maple sugar orchard or sugarworks and see a sugaring demonstration; watch them make maple syrup!
Where are Maple Syrup farms/orchards/sugarworks, etc.? Well, they're not in Hawaii or Florida, for sure. They are concentrated in the northeast and upper midwest in the US and the eastern half of Canada, even though maple trees do grow in the northwest.
Maple Syrup listings, by county
Click on Resources above, if you need a county map
Augusta County
Bath County
Buena Vista (City of)
Harrisonburg (City of)
Highland County
Back Creek Farms -
7781 Upper Back Creek Road, Monterey, VA. Phone: 540-499-2302. The Lowry family has been making maple syrup since before the Civil War, and they still use the open pan passed down from Pat Lowry's great-grandmother.
Bruce's Syrup and Candies -
824 Folks Drive, Blue Grass, VA. Phone: 540-474-5661. Email: brucesmaple@yahoo.com. Directions: on the Folks Family Farm up on the mountain that overlooks the beautiful Blue Grass Valley, where maple syrup and products have been produced for over 50 years.
Duff's Sugar House -
3118 Mill Gap Road, Monterey, VA. Phone: 540-468-3094. Email: tjduff@htcnet.org.
Eagles Sugar Camp -
5503 Jack Mountain Rd, Doe Hill, VA 24433. Phone: (540) 396-6126. Directions: north of McDowell off Rt. 654 (Jack Mountain Road) in Doe Hill. Syrup producers for more than 200 years, the Eagles still use the open-pan, wood-fired method as well as the latest, advanced, computerized, oil-fired evaporators. Camp owner Jay Eagle and his crew are always excited to pass along their knowledge about the process and show visitors around the camp. Open: Call ahead for an appointment to visit.
Fair Lawn Farm - Fancy maple syrup, Dark amber maple syrup, Organic maple syrup, tours, Maple Syrup from trees on the farm, Fresh eggs, Cider mill (fresh apple cider made on the premises), porta-potties are available, picnic area (bring your own food), school tours, group reservations
3118 Mill Gap Road, Monterey, VA 24465. Phone: 540 468-3094. Email: Tjduff@htcnet.org. Open: We open our trees in mid February, and begin cooking immediately; For a personal tour of the opening process, and to avoid the crowds,please call us for a hands on experience second to none; We are children friendly, and encourage hands on participation. Directions: From staunton virginia, take route 250 west approximately 1 hour and 15 minutes to monterey. Take route 220 south for 3 miles to route 84 west for three miles, our farm is the large red brick farmhouse on the right. Good signage. Click here for a map and directions. Payment: Cash, Check. We offer a farm experience typical of the 1880's through the 1930's. (UPDATED: June 16, 2016) (ADDED: February 01, 2015)
Laurel Fork Sapsuckers -
10677 Mountain Turnpike, Hightown, VA 24465. Phone: 540-290-1676. Email: laurelforksapsuckers@yahoo.com. Laurel Fork Sapsuckers is a family-run sugar camp that you can join for high elevation views of western Highland County and a tour of the maple syrup making process.
Mill Gap Farms -

Certified Organic

,
2760 Mill Gap Road, Monterey, VA. Phone: 540-468-2882. Email: kevin@millgapfarms.com. Mill Gap Farms is the only producer in Virginia who is certified Organic.
Puffenbarger's Sugar Orchard -
17 Maple Syrup Lane, Blue Grass, VA. Phone: 540-474-5712. Email: puffenbargersmaple@gmail.com. Puffenbarger's Sugar Orchard is located on Maple Sugar Road in the heart of the Blue Grass Valley.
Rexrode Maple Sugar Orchard -
1564 Maple Sugar Rd, Monterey, VA 24465. Phone: (540) 468-2351. Directions: north of Hightown on Route 637 (Maple Sugar Road), Rexrode's Sugar Orchard features a stand of maple trees well over 200-years-old. The Rexrodes use the old-fashioned, open-pan system of evaporation as well as the newer wood-fired evaporation method with miles of plastic tubing to gather the sugar water. Carrying on the family tradition of maple syrup making, Derek Rexrode, Open: Call ahead for an appointment to visit.
Southernmost Maple -
7738 Big Valley Rd, Bolar, VA 24484. Phone: (540) 468-2682. Directions: 15 miles south of Monterey on Route 607 (Big Valley Road), off US 220 at Bolar, Southernmost Maple Products funnels sugar water into the only piggy-back evaporator to be found in the southern states. They also have a country store that offers a variety of maple products, flour, honey, jellies, and baked goods.Open: Call ahead for an appointment to visit.
Sugar Tree County Store & Sugar House -
185 Mansion House Road, McDowell, VA. Phone: 540-396-3469. Email: sugartree@mgwnet.com. They utilize reverse osmosis techniques for making syrup.
Tonoloway Farm -
9943 Highland Turnpike, McDowell, VA. Phone: 540-396-3328. Email: tonolowayfarm@gmail.com. Tonoloway Farm is Highland County's newest syrup operation and Virginia's only commercial producer of black walnut syrup. Visitors are welcome to taste the unique flavors of walnut syrup.
Lexington (City of)
Rockbridge County
Rockingham County
Staunton (City of)
Waynesboro (City of)