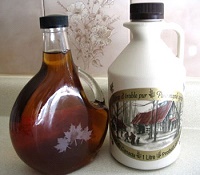 Looking for local maple syrup orchards and sugarworks in Cleveland, Akron and northeastern Ohio? There are also listings for every other state, tours, festivals, syrup making demonstrations, history, facts, related events and fun!" Scroll down this page and you will see the aall of thoses in Cleveland, Akron and northeastern Ohio, sorted by county. ALWAYS call before you go to confirm the info, they don't always report changes to me!
And if you know of one I missed and want to add it or correct the information, please let me know!
Updates for September 2020
September The new sapping season starts in late winter; tours usually begin in early Spring! That's a great time to visit a maple sugar orchar and see a sugaring demonstration; watch them make maple syrup!
Maple Syrup listings, by county
Click on Resources above, if you need a county map
Ashland County
Ashtabula County
Bissell Maple Farm - Fancy maple syrup, Medium maple syrup, Dark amber maple syrup, Premium maple syrup, Collectors bottles or sets, maple candies, maple sugar, tours, Pancake breakfast day,
3741 Higley Road, Rock Creek, OH 44084. Phone: 440-563-3263. Alternate Phone: 440-563-3211. Email: sticky@bissellmaplefarm.com. Open: Maple Farm location - Three Saturdays only; Tour dates are Saturday March 7 Thursday, 14 Thursday, 21st from 10 am to 4; Ohio's first crop of the year! Storefront location - Rock Creek Sugarworks is open Monday to Friday from 9am to 5pm. Directions: Storefront: Rock Creek Sugarworks: 3119 W. Water Street Rock Creek, OH 44084 From Cleveland, I-90 East to Route 45 (Austinburg) south 9.5 miles to Rock Creek. At the traffic light, go West - 500 feet on the North side of Water Street. Maple Farm: 3741 Higley Road Rock Creek, OH 44084 From I-90, Take Route 534 Geneva (exit 218), head south 7.7 miles to Footville-Richmond Road (Route 166) go left/East. In 1.5 miles turn right onto Higley Road. We'll see you at the end of the road!. Click her e for a map and directions. Maple Madness Tour! The first three Saturdays in March; Free pancakes and maple syrup; March 7, 14, and 21st - 2015; Our. Payment: Cash, Debit cards, Visa/MasterCard. . What's better than maple syrup?! Bourbon barrel aged maple syrup! We produce and sell our bourbon barrel aged maple syrup at our maple market. We source single use bourbon barrels from local distillers and Kentucky distilleries. We age the maple syrup for 100 days until the flavor is extracted. (ADDED: February 15, 2015)
Sporty Acres / Simply A Maizing - Maple Syrup from trees on the farm, gift shop, snacks and refreshment stand, restrooms, picnic area, petting zoo, farm animals, birthday parties, school tours
4700 Us Route 6 West, Andover, OH 44003. Phone: 440-228-4083. Email: jenny@simplyamaizing.com. Directions: From Route 11 take US Route 6 West towards Andover. The maze is located on the left just after the West Andover sign. And for a map to our farm, click here. Crops are usually available in September. Open: Friday 12pm to 10pm, Saturday 10am to 10pm, Sunday 11am to 6pm; Monday to Thursday by appointment only. Corn maze is open from August 15th to November 1st. Payment: Cash, Visa/MasterCard.
Cuyahoga County
Erie County
Geauga County
Kiwanis Club of Chardon - Tapping Sunday, Bottling event, Maple Festival
Pilgrim Christian Church, 202 S Hambden St, Chardon, Ohio 44024, Chardon, OH 44024. Phone: 440-413--1086. Email: info@chardonsquareassociation.org. The Kiwanis Club of Chardon meets at the kitchen of thePilgrim Christian Church to bottle maple syrup from sap/syryp produced at local sugarhouses. The club then sells the bottles at the Heritage House on the square at a sale starting with Tapping Sunday on March 3 and each Sunday following from 11 a.m.to 3:30 pm, including during the annual Easter Egg Hunt to be held on Easter Sunday, starting at 9 a.m. The Maple Festival is held after Easter on April 25 to 28. At the maple festival, there will be maple syrup, maple barbeque and mustard, maple candy, maple spread, maple sugar, maple sugar cotton candy, and other candies.
Ma & Pa's - Maple Syrup from trees on the farm, Cider mill (fresh apple cider made on the premises), prepicked produce, gift shop, events at your location (call for info)
15161 Main Market Road (State Route 422), Troy Township, OH 44021. Phone: 440-548-5521. Fax: none. Email: remington@ohio.net. Open: four weekends in March, Saturdays Only, Horses go out at 12:00 Noon and 2:00 pm. Directions: We are Located on State Route 422 about 30 Minutes from Cleveland Area...Best to do a Mapquest with Our address...Or Call the Store at 440-548-5521 Ma & Pa's 15161 Main Market Road Burton, Ohio 44021. And for a map to our farm, click here. Payment: Cash, Check, Visa/MasterCard, Discover. Today, most maple producers have forgone the traditional metal sap bucket in favor of tubing systems to collect sap from their sugar bush. Come see how it all happens at Ma & Pa's during their annual Maple Syrup Gathering four weekends in March. Saturdays Only We do not take the horses out in heavy rain. Call ahead if rain is expected. Pa hitches up the horses again and takes you deep into the woods through the sugarbush to collect the sweet stuff and brings it back to the sugar shack to demonstrate how it is all done. Then sample some Maple Coffee and Maple Candy and various other maple treats in the log cabin. There is no charge for the tour and small buckets are provided for the children. The sweetest season of the year at Ma & Pa's! To find out more information about the maple tours please call the store. (UPDATED: December 05, 2016, JBS)
Soubusta Farms - Fancy maple syrup, Medium maple syrup, Premium maple syrup, concessions / refreshment stand, school tours
11380 Thwing Road, Chardon, OH 44024. Phone: 440-357-8568. Alternate Phone: 440-256-7568. Fax: 440-357-9794. Email: kevinv@pjtube.com. Open: Same as above. Click here for current open hours, days and dates. Directions: 11380 Thwing Road Chardon Township Ohio. From Lake County take Auburn Road South to Thwing. Turn left one half mile. we are on the left top of the hill. From south of Route 6 take Auburn Road north and take a right on Thwing. We are between Auburn and Wilson Mills just south of Route six. Legend Lakes Golf cCours is at the crossroads. Thanksgiving to Christmas weekends 9 am til dark. Payment: Cash, Check. Soubusta Farms is the 2011 and 2012 winner of the Geauga Maple Festival. We will have Syrup available for sale during our Christmas Tree Season. Quarts and Pints will be available on a limited basis Our Hours are Sat & Sunday 9:am/dark. We have large Scotch and White Pine along with beautiful Blue and Norway Spruce for you to cut. In our Christmas Barn we have the highest quality Fraser Firs and Douglas Firs displayed for your viewing. With hundreds to choose from we are sure we have your favorite tree. Wreaths and boughs are available. Click here for our Facebook page. (UPDATED: December 05, 2016, JBS)
Huron County
Lake County
Lorain County
Mahoning County
Medina County
Portage County
Monroe's Orchard and Farm Market, LLC - Fancy maple syrup, Medium maple syrup, Dark amber maple syrup, gift shop, concessions / refreshment stand, porta-potties are available, picnic area, face painting, pony rides, school tours
6313 Pioneer Trail, Hiram, OH 44234. Phone: 330-569-7464. Email: MonroesOrchard@windstream.net. Open: Available during regular hours at the Farm Market; Made in February and March, please call for information about visiting the Sugar House. Click here for current open hours, days and dates. Venue updates: Click here for updates. Directions: 1 mile East of State Route 700, 3 miles West of State Route 44, 10 minutes to Ohio Turnpike on State Route 44 South, and State Route 422 from State Route 44 North. Click here for a map and directions. Strawberries: June, Cherries: Middle June to Middle July, Peaches: Late July through August, Pears: Late August through September, Apples: Middle August to Christmas Eve, Our Own Cider: Mid September to Christmas Eve, Pumpkins: Last weekend of September through October,. Payment: Cash, Check, Debit cards, Visa/MasterCard, Discover, AmEx, WIC Vouchers, SFMNP Vouchers. . We are truly blessed, and appreciate our customers. We look forward to seeing you. Make a Memory here with us. Thank you for your patronage!. Annual Apple Harvest Festivals, September 29, October 6 and 13, 2012. Times: 1:00 - 5:00p.m. Pick-Your-Own Apples and Pumpkins, Free wagon rides, free glass of cider and an apple for each attendant. Watch our apple cider being made! RichLind Alpacas with their friendly alpacas and Common Ground Kennel with pony rides will be here. The Crestwood Lions will have concessions, and Critters of the Wetlands will be here during October festivals. Free face painting, Bubbles, apple baked goods and more. A Tribute to Willie Nelson with 5 Star Entertainment will be September 15, October 13, and 20, 2012. Come and enjoy the music, Pick-Your-Own, and the beautiful lush Hiram scenery. Portage County Drive it Yourself Farm Tour: September 22 from noon to 4:00.
Stark County
Summit County
Trumbull County
Wayne County
Ohio Pumpkin LLC - Maple Syrup from trees on the farm, Maple syrup, Honey from hives on the farm, Fresh eggs, gift shop, concessions / refreshment stand, porta-potties are available, picnic area, face painting, jumping pillow, petting zoo, farm animals, school tours
10558 N Elyria Road, West Salem, OH 44287. Phone: (330) 465-7830. Email: adamknp8787@gmail.com. Directions: Click here for a map and directions. Payment: Cash, Debit cards, Visa/MasterCard, Discover. (UPDATED: August 17, 2017)