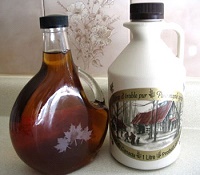 Looking for local maple syrup orchards and sugarworks in Cincinnati, Dayton and southwestern Ohio? There are also listings for every other state, tours, festivals, syrup making demonstrations, history, facts, related events and fun!" Scroll down this page and you will see the aall of thoses in Cincinnati, Dayton and southwestern Ohio, sorted by county. ALWAYS call before you go to confirm the info, they don't always report changes to me!
And if you know of one I missed and want to add it or correct the information, please let me know!
Updates for February 2023
February The new sapping season starts in late winter; typically from mid-March to mid-April in most maple-syrup producing areas, when temperatures are below freezing at night and above freezing during the day. Tours usually begin in early Spring! That's a great time to visit a maple sugar orchard or sugarworks and see a sugaring demonstration; watch them make maple syrup!
Where are Maple Syrup farms/orchards/sugarworks, etc.? Well, they're not in Hawaii or Florida, for sure. They are concentrated in the northeast and upper midwest in the US and the eastern half of Canada, even though maple trees do grow in the northwest.
Maple Syrup listings, by county
Click on Resources above, if you need a county map
Adams County
Brown County
Butler County
Clermont County
Clinton County
Darke County
Greene County
Hamilton County
Highland County
Miami County
Montgomery County
Bayer's Melon Farm - Minimizes chemical and pesticide use, Medium maple syrup, maple sugar, Fresh eggs
9555 W Third Street, Dayton, OH 45417. Phone: (937) 835-3323. Alternate Phone: (937) 546-5203. Fax: 937-835-0500. Email: bayersmelonfarm@gmail.com. Open: Typical season is from May through November; in season, Monday to Thursday, from 10:00 am to 6:30 pm; Friday 10:00 am to 7:30 pm; Saturday 10:00 am to 5:30 pm. Directions: Click here for a map and directions. Strawberry season is typically: May 10 to June 15 Summer fruits and vegetables (e;g; tomatoes, peaches, cantaloupes, watermelons, peppers, sweet corn, etc;) is approximately from June to September Fall crop (e;g; pumpkins, mums, straw bales, apples, apple cider, winter squash) is from September to November Honey, Milk, Jams ans Preserves are available all season from May to November. We minimize use of pesticides and other chemicals. Payment: Cash, Check, Debit cards, Visa/MasterCard, Discover. (ADDED: January 17, 2019)
Tuken's Orchard & FarmMarket - Fancy maple syrup, Turkeys (organic, not-hormone-fed), Honey from hives on the farm, gift shop, restrooms, picnic area, petting zoo, school tours
15725 Eaton Pike, West Alexandria, OH 45381. Phone: 937 687 3848. Email: tukensfarmmarket@AOL.com. Open: Monday to Saturday, 10am to 6 pm, Sunday 11am to 5 pm. Directions: Click here for a map and directions. Strawberries and sweet and tart cherries are available in June; Plums are available in July and August; Peaches are ready in August; Apples are ready from August to end of October; Summer vegetables are ready in mid July to end of September;. Payment: Cash, Check, Debit cards, Visa/MasterCard, WIC Vouchers.
Preble County
Shelby County
Warren County