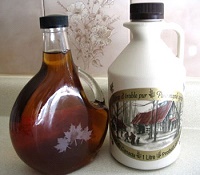 Looking for local maple syrup orchards and sugarworks in Augusta and surrounding counties of Maine? There are also listings for every other state, tours, festivals, syrup making demonstrations, history, facts, related events and fun!" Scroll down this page and you will see the aall of thoses in Augusta and surrounding counties of Maine, sorted by county. ALWAYS call before you go to confirm the info, they don't always report changes to me!
And if you know of one I missed and want to add it or correct the information, please let me know!
Updates for October 2023
October The new sapping season starts in late winter; typically from mid-March to mid-April in most maple-syrup producing areas, when temperatures are below freezing at night and above freezing during the day. Tours usually begin in early Spring! That's a great time to visit a maple sugar orchard or sugarworks and see a sugaring demonstration; watch them make maple syrup!
Where are Maple Syrup farms/orchards/sugarworks, etc.? Well, they're not in Hawaii or Florida, for sure. They are concentrated in the northeast and upper midwest in the US and the eastern half of Canada, even though maple trees do grow in the northwest.
Maple Syrup listings, by county
Click on Resources above, if you need a county map
Androscoggin County
Jillson's Farm Sugarhouse - Sugar parties, maple syrup and maple products,
143 Jordan Bridge Rd, Sabattus, ME 04280. Phone: (207) 375-4486. Email: info@jillsonfarm.com. We also have fresh vegetables, flowers and in season, maple breakfasts, sugar parties, potluck suppers, Maine Maple Sunday, and Mother's Day tea. In the Fall, we offer pumpkins. Maple syrup in glass bottles in many different shapes and sizes are available--log cabin, Statue of Liberty, maple leaf, etc. Call to see what the latest designs are.
Plastic bottles - 1/4 oz., 1/2 pint, pint, quart, 1/2 gallon, gallon. Wild Maine Blueberry Syrup. Maple Candy - lobster, maple leafs and other shapes available, Maple Cream, Maple Sugar Blocks, Maple Kettle Corn and Maple Taffy. (ADDED: March 3, 2013X)
Ricker Hill Orchards -

ORGANIC

, apples, pumpkins, pumpkins, corn maze
Rte 117, Turner, ME. Phone: 207-225-3455 Toll free: 877-501-3640. Fax 207-225-2790. Email apples@rickerhill.com Open: 9 am to 6 pm daily. Handicapped Accessible. Restrooms Available. Bus parking. Pick Your Own Apples & Pumpkins, Pick your own season is from September through mid October. Come pick your own apples at Ricker Hill in Turner. There are a number of Varities to pick from IPM or Organic grown. We feature many activities at our farm including pick your own apples, a corn maze, disc golf, and more... Our farm stand is full of wonderful apples and cranberries. School Tours & Bus Tours are always welcomed at our farm. We hope to see you here.In the Spring Maple Syrup & Sugar Shack: Saturday and Sunday on one weekend in March; 8 am- 6 pm, with a buffet style breakfast including crepes, freanch toast, bacon,eggs etc. Live boiling demonstrations with maple taffy on snow. Maple hard cider, fresh hot maple donuts made on site, maple ice cream and much more. We will be open for Maine Maple Weekend Farm tours, restrooms, handicapped accessible, school and bus tours. Saturday & Sunday one weekend in March. Please call is at 225-5552 or 740-0693. (UPDATED: October 1, 2018, JBS)
Comments from a visitor on September 21, 2009: "My husband found Ricker Hill Orchards in a Google search and we learned that it actually offered a lot, so we went. It was a great time and I wanted to see the listing changed to reflect what this PYO really offers. I know that they accept credit cards, but I do not know which ones. They offer organic apples, but I do not know what kind of certification they have."
Slattery's Farm and Maple Supply Company - beans, beets, cucumbers, flowers, Maple Syrup from trees on the farm, U-pick and already picked
1381 Woodman Hill Road, West Minot, ME 04288. Phone: 1-207-966-3643. Email: slatbake2001@yahoo.com. Open: please call ahead. Directions: we are located at 1381 Woodman Hill Road in West Minot from Auburn take route 121 towards Mechanic Falls, take right hand turn onto route 119. (route 119 is Woodman Hill Road) From South Paris take route 119 towards Auburn, we are about 3 miles from Hebron Academy from Buckfield take route 124 to route 119, turn left at intersection. For a map to our farm, click here. Payment: Cash, Debit cards, Visa/MasterCard, Discover. Click here for a link to our Facebook page.
Kennebec County
Wagner's Maple Sugar House - maple syrup, maple sugar cakes, maple cream, maple sugar, and maple coated almonds, walnuts, and peanuts.
Route 32 North, South China, ME. Phone: 207-445-2214. Open: daylight hours beginning in August. They offer tours of their sugar camp site with on going maple production and can accommodate groups of up to 50 people. Call to schedule your school class, church group, or other group today! We make Pure PA Maple Syrup. Our products include maple sugar cakes, maple cream, maple sugar, and maple coated almonds, walnuts, and peanuts. Other products available at our camp or on special occasions are maple peanut butter bonbons, maple fudge, maple cotton candy, and maple lollipops. Gift baskets are also available and can be customized. We are open every weekend in March and at least one weekend a month all other months. Tours and other visits can be arranged by calling us ahead of time. We have a large display of maple antiques. An added bonus to visiting the maple camp is that it is located on a farm with a beautiful country setting and a trout hatchery. (UPDATED: October 1, 2018, JBS)
Knox County
Lincoln County
Sagadahoc County
Card's Farm - Dark amber maple syrup,
195 John Small Road, Bowdoin , ME 04008. Phone: 207-353-4789. Open: Monday to Friday, from 8 am to 7:30 pm; Saturday and Sunday, from 8 am to 7 pm, Usually open after July 4 to week after Labor weekend in September . Directions: Card's Fruit Farm on end of the John Small Road, off Route 125 in Bowdoin. From Brunswick, take Route 201 North to Route 125 (left), go 3 miles to John Small Road (right), one mile to end. From Lewiston, take Groves Street to Bowdoinham Road, go to end Bowdoinham Road, take left on to Route 125, go 1 mile, take first left, on to John Small Road, go one mile to end. Address 195 John Small Road, Bowdoin. Farm is 15 miles from LA, 12 mi Brunswick, 30 mi Portland, 3 mi from exit I295. 207-353-4789. Click here for a map and directions. Payment: Cash, Check. Maple Syrup is produced on the farm from Sugar Maple Trees.
Waldo County
Kinney's Sugarhouse - Pure Maine Maple Syrup, Maple Sugar, Maple Cream, Molded Maple Sugar (often called Maple Candy) and Maple Recipes.
200 Abbott Rd, Knox, ME 04986. Phone: (207) 568-7576. Email: info@mapleconfections.com. We have a Maine Maple Sugarhouse. Our specialty is in making the confections from maple syrup. We are one of the largest commercial producers of maple sugar candy in the State of Maine. We make maple cream (aka maple butter) for spreading on toast, English muffins, pancakes, in a sandwich with peanut butter (MaryAnne's favorite) or to eat right off a spoon (another family favorite). We also make molded maple sugar (often called candy), granulated sugar (fast becoming our most popular product) and a cinnamon maple sugar made with organic cinnamon. Our pure maple products are certified organic through MOFGA (Maine Organic Farmers and Gardeners Association). Our newest product, Maple Jelly, won an honorable mention for Best New Product at the 2014 New England Made spring show in Portland, ME. (ADDED: July 11, 2018, JBS)