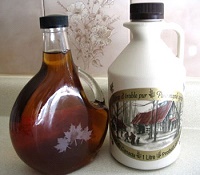 Looking for local maple syrup orchards and sugarworks in Baltimore area of Maryland? There are also listings for every other state, tours, festivals, syrup making demonstrations, history, facts, related events and fun!" Scroll down this page and you will see the aall of thoses in Baltimore area of Maryland, sorted by county. ALWAYS call before you go to confirm the info, they don't always report changes to me!
And if you know of one I missed and want to add it or correct the information, please let me know!
Updates for December 2023
December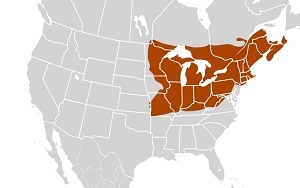 - The new sapping season starts in late winter; typically from mid-March to mid-April in most maple-syrup producing areas, when temperatures are below freezing at night and above freezing during the day. Tours usually begin in early Spring! That's a great time to visit a maple sugar orchard or sugarworks and see a sugaring demonstration; watch them make maple syrup!
Where are Maple Syrup farms/orchards/sugarworks, etc.? Well, they're not in Hawaii or Florida, for sure. They are concentrated in the northeast and upper midwest in the US and the eastern half of Canada, even though maple trees do grow in the northwest. That's why the areas below (in states outside of the Northeast and Midwest) have no listings! Although, there is research to develop trees that can produce sap/syrup in warmed climates.
Maple Syrup listings, by county
Click on Resources above, if you need a county map
Anne Arundel County
Baltimore County
Calvert County
Carroll County
Charles County
Frederick County
Cunningham Falls State Park Maple Syrup Festival - maple syrup festival and mapel syrup making demonstration
Houck Lake Area, Cunningham Falls State Park, Thurmont, MD. Email: info@cunninghamgambrill.org. Open: The Annual Maple Syrup Festival is held on the second and third weekends of March from 9:30 am to 2 pm; Saturday and Sunday, for example, that is March 11-12 and 18-19 in 2017,Syrup-making demonstrations start every hour. Maple syrup demonstrations. Every February, rangers hang buckets on 19 maple trees in the park for sugaring time. Food will be for sale, including pancakes and sausage. Maple products will also be for sale. Pancakes, served with real maple syrup, and other food will be for sale. The festival takes place at the Houck Lake Area of Cunningham Falls State Park, from 9 to 2. Food will be served including pancakes, sausage, sausage sandwiches, hot dogs and other items. Maple syrup products will be sold including maple syrup, maple cream and maple candy. A maple syrup making demonstration will start every hour and continue throughout each day. Live music will be provided by local blue grass bands. A donation of $3 per person is requested in lieu of the park entry fee. Youth group members are $2 and children in safety seats are free. All money collected goes to the Friends of Cunningham Falls State Park and Gambrill State Park. The "Friends" is a non-profit organization which has supported Cunningham Falls and Gambrill State Parks since 1996. Previous "Friends" donations to the parks include Polaris vehicles, skid loader, rescue boat and motor, handicapped beach wheelchair, AEDs, power tools and other items. Directions: US Route 15 North from Frederick Maryland. Exit at Maryland Route 77 and continue west on 77. Turn left on Catoctin Hollow Road (just past the Catoctin Mountain Park Visitor Center). Follow the signs for the Falls parking and turn right into the Houck Lake Area. The park rangers make maple syrup the old-fashioned way, boiling it in a kettle over a roaring fire. You will learn how you can do this at home and facts, like an average tapped maple will produce 10 to 20 gallons of sap, enough for a pint or two of syrup. It takes 40 gallons of sap to make one gallon of syrup.

Harford County
Howard County
Montgomery County
Prince George's County
St. Mary's County