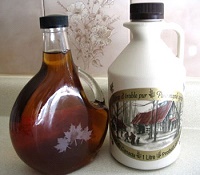 Looking for local maple syrup orchards and sugarworks in central eastern Iowa - Cedar Rapids, Davenport, Iowa City, etc.? There are also listings for every other state, tours, festivals, syrup making demonstrations, history, facts, related events and fun!" Scroll down this page and you will see the aall of thoses in central eastern Iowa - Cedar Rapids, Davenport, Iowa City, etc., sorted by county. ALWAYS call before you go to confirm the info, they don't always report changes to me!
And if you know of one I missed and want to add it or correct the information, please let me know!
Updates for February 2023
February The new sapping season starts in late winter; typically from mid-March to mid-April in most maple-syrup producing areas, when temperatures are below freezing at night and above freezing during the day. Tours usually begin in early Spring! That's a great time to visit a maple sugar orchard or sugarworks and see a sugaring demonstration; watch them make maple syrup!
Where are Maple Syrup farms/orchards/sugarworks, etc.? Well, they're not in Hawaii or Florida, for sure. They are concentrated in the northeast and upper midwest in the US and the eastern half of Canada, even though maple trees do grow in the northwest.
Maple Syrup listings, by county
Click on Resources above, if you need a county map
Benton County
Black Hawk County
Buchanan County
CedarCounty
Clayton County
Great River Maple - Grade A and B maple syrup and delicious Maple Cream.
217 Clay Brick Ln, Garnavillo, IA 52049. Phone: (319)830-5882. jeremy@greatrivermaple.com. Open: Shop online or contact us to schedule a free tour. They have delicious certified organic maple syrup and maple cream. It's about offering you maple syrup of such high quality that you can taste the difference! We never blend our maple syrup because we believe you should never compromise. We are confident that you will taste the superior quality of our maple syrup, maple cream and bourbon aged maple syrup. Click here for a link to our Facebook page.

Clinton County
Delaware County
Dubuque County
Iowa County
Jackson County
Johnson County
Jones County
Linn County
Golding's Sweet Maple Farms - maple syrup
7000 Tower Terrace Road, Cedar Rapids, Iowa 52411. Phone: (319) 360-1028. Email: info@sweetmaplefarms.com. Open: contact them by phone or email to schedule an appointment. 100% pure maple syrup is available in a variety of sizes from a small 50 ml. maple leaf glass decanter to a 16 oz. jug. We offer four grades: Grade A: light, medium, dark, and extra dark. Grade choice is a matter of personal preference, not quality. Located in rural Cedar Rapids, Iowa since 1991, Sweet Maple Farms is family owned and operated and specializes in maple syrup, honey, garden vegetables, wild berry, and horse hay products. All our produce is home-grown without insecticides or herbicides and is harvested by hand. The maple, honey, vegetable, and berry products are packed in recyclable glass containers to prevent the adverse effects that plastics may have on our syrups, jams, pickles, etc.
(ADDED: February 17, 2022, JBS)
Muscatine County
Scott County