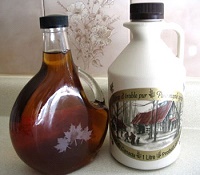 Looking for local maple syrup orchards and sugarworks in Hartford and Surrounding Connecticut? There are also listings for every other state, tours, festivals, syrup making demonstrations, history, facts, related events and fun!" Scroll down this page and you will see the aall of thoses in Hartford and Surrounding Connecticut, sorted by county. ALWAYS call before you go to confirm the info, they don't always report changes to me!
And if you know of one I missed and want to add it or correct the information, please let me know!
Updates for December 2023
December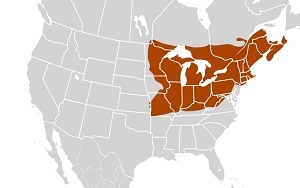 - The new sapping season starts in late winter; typically from mid-March to mid-April in most maple-syrup producing areas, when temperatures are below freezing at night and above freezing during the day. Tours usually begin in early Spring! That's a great time to visit a maple sugar orchard or sugarworks and see a sugaring demonstration; watch them make maple syrup!
Where are Maple Syrup farms/orchards/sugarworks, etc.? Well, they're not in Hawaii or Florida, for sure. They are concentrated in the northeast and upper midwest in the US and the eastern half of Canada, even though maple trees do grow in the northwest. That's why the areas below (in states outside of the Northeast and Midwest) have no listings! Although, there is research to develop trees that can produce sap/syrup in warmed climates.
Maple Syrup listings, by county
Click on Resources above, if you need a county map
Hartford County
Barbourtown Tree and Maple Syrup Farm - Maple syrup, Christmas trees-you choose and you cut, Precut Christmas trees, Christmas wreaths, saws are provided, restrooms, gift shop, wrapping, porta potties
225 Barbourtown Road, Canton, CT 06019. Phone: 860-977-8024. Email: redoak.landscape@me.com. Open: :see their website. Directions : Route 44 to Route 179 North. Left on Barbourtown Road. Follow Road to #225 approximately 2 miles. Gift Shop with: Maple syrup, hand made roping and wreaths.
Hartland Hollow Modern Homestead -

Organic

, Maple Syrup from trees on the farm, Fresh eggs
54 Walnut Hill Rd, East Hartland, CT 06027. Phone: (860) 413-9189. Email: contact@hartlandhollow.com. Open: Farm stand is open every day from 8am to 7pm. Click here for current open hours, days and dates. Directions: Take Route 20 into East Hartland. At the center of town (5-way stop sign) take Walnut Hill Road and we are 1/4 mile on the left. Click here for a map and directions. Duck Eggs available February through December, Goose Eggs available February and March;. We use natural organic practices, and are subject to the NOP small quantity exemption. Payment: Cash, Check, Venmo, PayPal, ApplePay, Debit cards, Visa/MasterCard, Discover, AmEx, WIC Vouchers, SNAP Vouchers. Click here for our Facebook page. We have a fully stocked "virtual farm stand" on our website and can ship most items across the country. (ADDED: February 01, 2021)
Karabin Farms - Maple Syrup from trees on the farm, apples and pumpkins
894 Andrews Street, Southington, CT 06489. Phone: (860) 620-0194 Fax: (860) 621-2058. Email: farmingct@cox.net. Open: daily from 9am to 5pm April-Dec; PYO weekends September and October; February and March are syrup months. Boiling is done on a daily basis when we have subfreezing nights and warm days. We make it the old fashion way, no pipelines or pumps just bucket by bucket! Saturdays and Sundays we offer informative demonstrations of how we convert 40 to 60 gallons of sap to sweet syrup. Best to call ahead. U.S. Grade A "Golden Delicate Taste": Formerly called Light Amber or Fancy. Very light coloring, mild and delicate this is the early season when the weather in colder. U.S. Grade A "Amber Rich Taste". U.S. Grade A "Dark Robust Taste". U.S. Grade A "Very Dark Strong Taste". Preferred by old time New Englanders.Scenic wagon rides to our orchard and pumpkin field. Numerous farm animals on working family farm.
Lamothe's Sugar House - Maple Syrup from trees on the farm, Farm market, Specialty products, Agritourism, Maple syrup products.
89 Stone Road, Burlington, CT 06013. Phone: 675-5043. Open: Winter Spring, Summer, Fall, Mon-Thurs 10am-6pm, Fri & Sat 10am-5pm, Sun 12-5pm.
Sweet Wind Farm -

follows organic practices,

, Maple Syrup from trees on the farm, prepicked produce, restrooms
339 South Road, Rte. 179, East Hartland, CT 06027. Phone: 860-653-2038. Email: sweetwind@sweetwindfarm.net. Directions: Follow route 20 west from Granby Center into Hartland. Take a left onto route 179, farm is down 1 1/2 miles on right. Take route 219 from Barkhamsted onto rte. 179, farm is on just past town line on left. And for a map to our farm, click here. Crops are usually available in July, August, September, October, November, December. Open: call for hours. Our Sugarhouse was built in 2005, we began making maple syrup here in 2006. Previously, The Case family made syrup for over 30 years at "Arlow's Sugar Shack" in Granby, CT. Sweet Wind Farm's new sugarhouse has modern equipment to produce quality maple syrup and other maple products such as sugar candy, lollipops, jelly, and cream. We offer educational tours and classes to groups , or you may visit during our "Open House" times when we are boiling for a free visit. Maple syrup is sold in all size containers from 3 oz. jugs to gallons, and we sell wholesale to those who buy in quantity. Maple products are sold year 'round at our farm. Visit us during our Maple Festival held annually on the second Saturday in March..
Walnut Ledge Farm -

Uses natural growing practices

, Fancy maple syrup, Medium maple syrup, Dark amber maple syrup, Organic maple syrup, Maple Syrup from trees on the farm, porta-potties are available
360 Matson Hill Road, South Glastonbury, CT 06073. Phone: 860-633-2286. Email: info@walnutledgefarm.com. Open: Monday - Friday 8am to 5pm July 1st - August 15th. Click here for current open hours, days and dates. Directions: Click here for a map and directions. We use natural practices, but are not seeking organic certification. Payment: Cash, Visa/MasterCard, Discover, AmEx. .
Tolland County