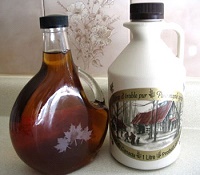 Looking for local maple syrup orchards and sugarworks in Australia? The website also has listings for every other state, tours, festivals, syrup making demonstrations, history, facts, related events and fun!" Just select your area in the list or map below.
And if you know of one I missed and want to add it or correct the information, please let me know!
What's in season in January 2021, and other timely information:
January The new sapping season starts in late winter; tours usually begin in early Spring! That's a great time to visit a maple sugar orchar and see a sugaring demonstration; watch them make maple syrup!
Maple Syrup listings
Click one of these areas (or click on the map further down this page)
In addition to listings of farm markets, roadside stands, farm shops and farmer's markets, I hope the following pages are helpful to you!
Picking Tips!
Simple instructions:
Canning and Freezing